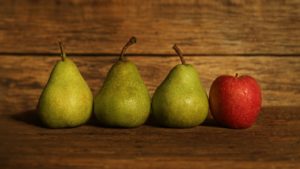 As I've shared before, I used to wish for different strengths. It's so easy to look at someone who is using their strengths and lament how you can't do it as good as they can. And you're right! That's not your strength and it's not what you should spend your time doing.
I listened to a great Disrupt Yourself podcast recently about figuring out your strengths when you're struggling to surface them. The tip that I loved: What is something that made you weird as a kid and how can you leverage that now? It's a fun thing to think about… once you get past the shame and embarrassment of your bad haircut/clothing/personal style/etc. that accompany the memory!
It can be hard to identify your strengths, particularly if you're new to the world of work. There are lots of different approaches you can use to help you come up with answers. Often, it's more challenging to acknowledge and appreciate your strengths after you've identified them.
As one example, I remember going through an MBTI exercise early in my career and having the feeling of flunking the test! More accurately, I wasn't yet comfortable with owning aspects of my personality like being an introvert. I incorrectly assumed that extraverts have more fun* and I was destined for an unfun career and life, complete with a BORING label stamped across my forehead. *Note: extravert fun is a different kind of fun that actually isn't fun for me, but rest assured I've managed to have my fair share of introvert hijinks!
Being an introvert doesn't make me weird, there are lots of introverts in the world. My enthusiasm isn't weird either. Lots of people are psyched about things! Neither is my bent toward efficiency and order (though many will argue those traits are a little over the top!). It's not my love of reading or cats or nature or TED Talks or thrift shops or anything else. But when you combine all those things that make me, me, you get something completely unique and original.
And that's true for Every. Single. Person. None of us can really be "normal", since that doesn't exist. This planet is filled with 7.5 billion unique, original, weird people and counting.
If the "keep it weird" campaigns of many cities like Austin, Portland, and even Milwaukee will attest, weird is more about celebrating something unique. Weird is now a compliment.
Interestingly, many of my clients struggle to talk confidently about their strengths and communicate the immense value that they bring. So we work together to make sure they are comfortable embracing their story in all its weirdness. This is absolutely crucial to your personal brand. Sharing your value helps other people to know what they get when they work with you. It creates clarity for others and gives you freedom to do your best work.
You can work authentically by owning your strengths, idiosyncrasies, and especially the stuff that makes you weird. That's your unique blend of skills, perspectives, and talents that NO ONE else in the world can bring.
So whadya say? Let's keep it weird, people!!
Image by Tracy Lundgren from Pixabay