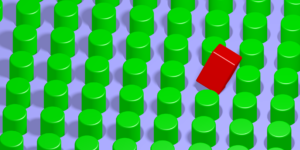 We don't need to pretend we're OK when we're not OK. And right now especially, it's OK to be not be OK! Most people are struggling. The more honest you are about your struggles, the more comfortable your team will be talking about theirs. Now is not the time for a stiff upper lip; it's time for empathy and kindness and understanding. In fact, Gallup studied major crises across decades and found that universally, people are looking to their leaders for trust, compassion, stability, and hope.
Being a good leader* can get lost in the shuffle of busy-ness during good times, but it becomes essential during times of challenge and crisis (*Note: I'm using the term leader in the broadest sense – we are all called upon to lead in certain situations, whether with family, a group of friends, or formally at work). Maybe, like many people, you're stuck in fear and struggling to get to hope. Fear can absolutely stop us in our tracks, but we need to remember a key element.
Fear arises whenever we face something new.
The new can be something exciting that we've worked toward for a long time, like getting that degree. It can be something scary that was forced upon us, like social distancing. But fear arises when we face anything new.
We've all heard the adage that you can't force a square peg in a round hole. And in a world where you're striving to work authentically, you can't force yourself to be who you're not. So what do you do if compassion isn't your thing, since that's one thing people universally need in times like these?
Find someone you know who has it as a strength. Ask them to coach you on it in the short term so you can improve. You don't have to become an expert in compassion; you just need a willingness to show up, ask good questions, and be there for people.
As for me, my efficiency strength is much stronger than empathy. There's a time and a place for efficiency, but now isn't necessarily it. At least not without a strong dose of empathy. So I'm asking others and leveraging resources like articles, podcasts, and more to make sure that I'm starting with empathy in my work. Doing less slowly, but doing it with good intent is more important for me right now.
If your strengths naturally guide you toward creating trust, compassion, stability, and hope, awesome! Do that because people need it. And if they don't, do what you can. Don't force it. But do keep in mind what we all need during this, and any, crisis.
#PositiveAction How can you create a little bit more trust, compassion, stability, or hope in your corner of the world today?
Image by Andrew Martin from Pixabay